After several months of hot sunny weather, we finally had some rain in Victoria this week.  I started thinking about floods and the kinds of situations that would precipitate one.  While it's pretty unusual for Victoria to have such long hot spells, sudden heavy rain on dry ground can cause flooding.  It's more usual for us to have the kind of flooding that comes from long term steady rain and melting snow, the kind that raises the levels of rivers and other watercourses.  When combined with poor or blocked drains and frozen ground, this kind of flooding can seriously damage roads and bridges.
According to the 1935 annual report of the Dept. of Public Works, the winter of 1934-1935 was an unusually cold one on Southern Vancouver Island, with heavy snow throughout December and January. In mid-January, the temperature soared and the snow changed to heavy rain.  The result was a flood at Jordan River which resulted in the loss of the bridge.  This photo is from a series of engineering photographs created by the Dept. of Public Works; GR-3293, file AAAD3731,  number 2-1-2.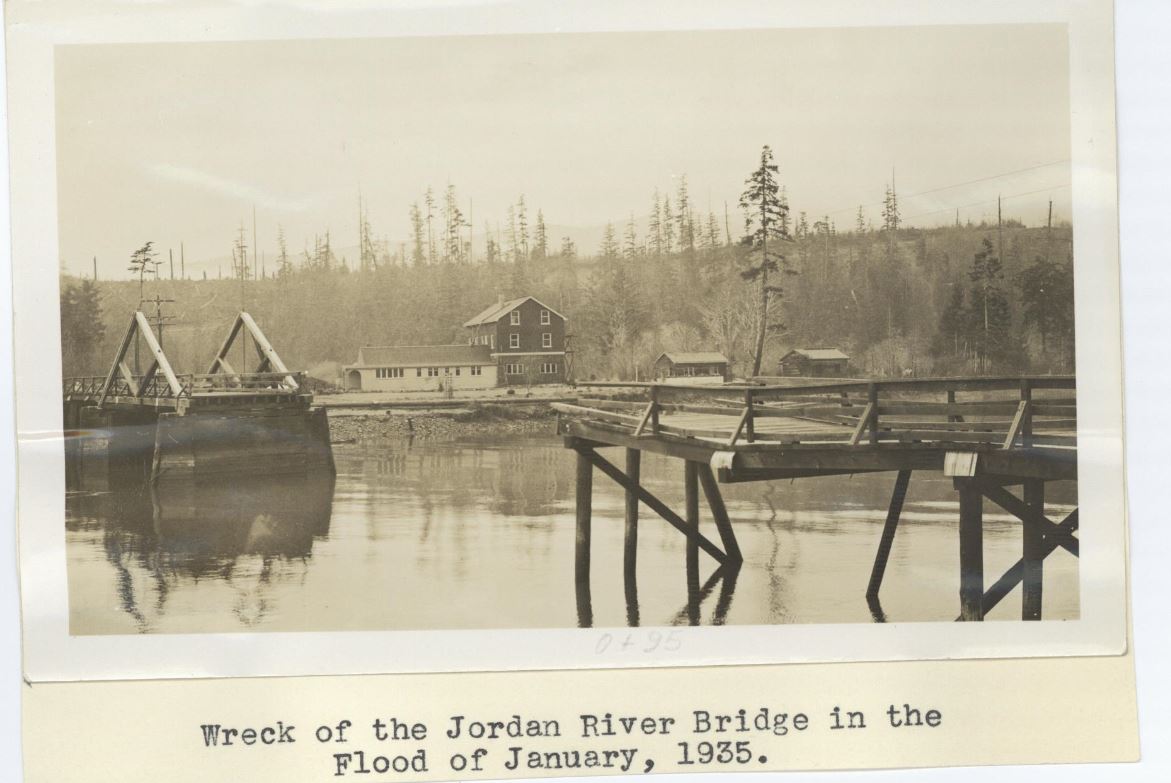 Another rain storm near the end of February caused serious road flooding near Duncan.  These photos are from GR-3293, file AAAD3288.
The top one is numbered 1-40-1.3 and on the back of the print it says "Storm Feb 26-27, look south (towards Victoria) from point ½ m north of tennis courts"
The bottom one is numbered 1-40-1.4 and on the back it says "At tennis court corner looking north, max depth of water on road was 3'!  All other roads giving access to Duncan from S. were under water to some extent"