The image above is a copy of a bill submitted to a New Westminster estate in 1945. (GR-2215, P10116).
This was a common practice (and probably still is).
When someone dies, any outstanding debts are submitted to the executor of the estate, and then (hopefully) paid out of the proceeds of the estate.
This particular bill was for 1 week's worth of nursing duties.
What makes these sorts of bills especially interesting is what other information can be found on the actual form.
This one contains a list of the various duties performed by nurses of the day, outlining the standard charges and conditions of employment.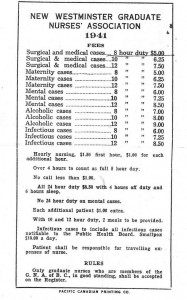 You may have some family papers that contain an assortment of bills.
Have a look at the complete document. Sometimes the actual bill won't be the most interesting thing you see.
If you would like to share some of your finds, contact me at @rbcmexplorer.